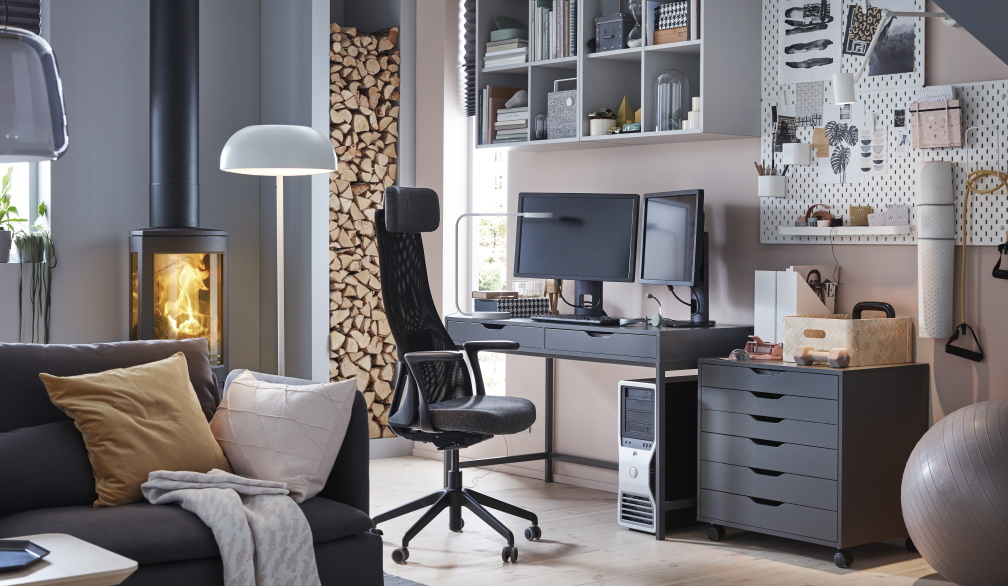 New figures released by IKEA Australia today reveal that 2 in 3 Australians are unhappy with their current work from home (WFH) space, and with more than 60% currently working from home full time, IKEA says now is the time for everybody to turn their temporary set ups to permanent ones.
Since the COVID-19 pandemic, millions of Australians have found themselves working from home for extended periods of time. Home office furniture has consistently been one of the highest-performing areas of IKEA since March 2020, making it clear that first purchases aren't always right. With numerous states currently facing varied levels of COVID-19 restrictions, our WFH spaces have never been more important – that's why IKEA has shared its top advice to encourage Australians to reevaluate their spaces and enhance them.
"Across Australia, workspaces have been created in bedrooms, on dining tables, sofas and even window ledges! We know many people have opted for temporary solutions but working from home has become the 'new normal', so we're encouraging all Australians to rethink their set ups and start working from home better. Whether it's an 'always on' solution, or something that can be packed up and put away at the end of the working day, there are many ways to create a workspace that will support people for a better working day", said Amy Hare, Interior Designer for IKEA Australia.
"The correct lighting, accessible & functional storage, ergonomic furniture or accessories to support your tech, plants, a favourite print or piece of art as well as a carafe and glass for water all contribute to a better workday at home and actively support your health and wellbeing", Amy continued.
The social survey of 8,000+ further revealed that while almost one in two have set up a WFH space in their spare room or home office, many have looked to other areas including the kitchen or living space (32%) and bedroom (18%).
35% of respondents feel uncomfortable at the end of the day, while one in three (31%) are unhappy with the way their space looks, and 19% don't find the space functional. Despite the frustrations, many admitted to not making changes due to: lack of time (27%), uncertainty on what changes to make (24%) and affordability/budget concerns (23%). However, IKEA Australia has shared its top tips for turning temporary spaces into permanent ones.
The research also explores how many Australians are struggling to find a healthy work-home balance, with 68% struggling to switch off at the end of the day when working from home, and 44% finding it difficult to stay motivated throughout the day – and almost 1 in 4 just miss the social interaction that comes with an office!
"Work can be incredibly stressful. How your home office is set up affects not only your productivity and creativity, but how you feel - influencing your mood, happiness and overall wellbeing. When our home offices are set up for our comfort and are aesthetically pleasing, we feel more content, less stressed and are less likely to suffer from burnout and fatigue. When the working environment supports comfort and productivity, it supports our mental health", said Mary Hoang, The Indigo Project.
Tips for working from home better:
Ergonomics: Prioritise comfort and opt for an ergonomic chair and sit/stand desk or support accessories for tech. It will help with motivation and you'll feel good at the end of the day.
Flexible lighting: Opt for a work lamp for task lighting and a mood light to soften the harshness of the task lighting.
Sit near a window: If possible, position yourself next to a window for natural lighting. Add a sheer curtain or blind to soften the space and a block-out curtain or blind to control the level of light when you are in virtual meetings.
Comfort: Footrests, monitors and laptop stands all help you stay comfortable and motivated throughout the day.
Storage: Mobile furniture such as trolleys and drawer units on wheels support with flexible work solutions so you can pack everything up at the end of the day, allowing you to switch off and create a visual separation from your working day.
Organisation: Make sure you have sufficient cable management to keep cords out of the way. Adding a pegboard helps you organise pens and papers as well as keeping your space visually appealing.
Greenery: Add a live table plant to support with wellbeing and contribute to creating a visually appealing space.
Accessories: Candles, plants, a vase for flowers, a favourite print or piece of art, throws and cushions will leave you with both a functional and beautiful space.
For more home office inspiration, visit https://www.ikea.com/au/en/rooms/home-office/