Huge global demand for H2X Global's Hydrogen Ute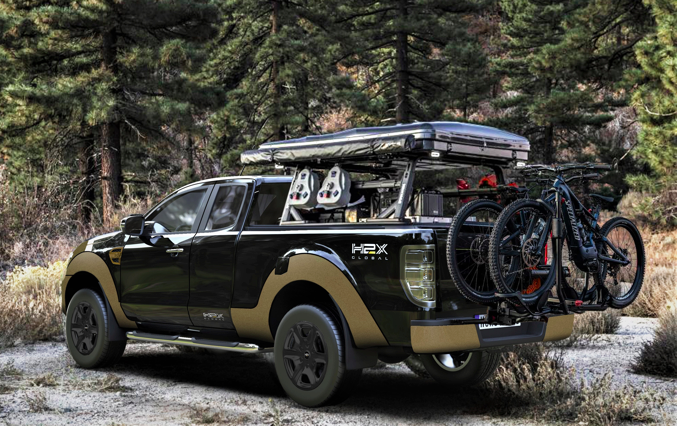 There's been unprecedented global demand for H2X's new Australian developed hydrogen fuel cell electric vehicle with $50 million in order requests in just the first 4 days.
Since orders opened to the public on Wednesday last week, over 200 order requests have been received from all over Australia and the world, including Netherlands, Germany and Malaysia.
Among the customers ordering the Warrego Ute are several significant energy companies and a number of private buyers.
Haim Ptasznik is Director of Veida, a provider of Green Energy Solutions and Hardware, and one of the first purchasers of the vehicle. He said: "The Warrego is the vehicle that we believe the community of Green Energy Pioneers have been waiting for, especially with Hydrogen already at parity with diesel kWh for kWh. Not to mention, the problems that EV's pose to the electrical network with grid congestion and excessive unpredictable demand disappear, with hydrogen as a supply."
"We work with our clients to create alternative, green energy solutions and the demand for Green Hydrogen in Australia is booming. H2X is enabling us to be the first to integrate Hydrogen Vehicles and their powertrains into our solutions. An Australian Vehicle powered by Green Hydrogen is too good to pass up." 
The Hydrogen Ute, will be unveiled at the global launch on Queensland's Gold Coast in November 2021. Delivery of the vehicle is slated for April 2022.
The Warrego is the first in a range of uniquely designed and developed fuel cell electric vehicles that will be released by H2X over the next 24 months. H2X's vehicles are fitted with the revolutionary H2X Powertrain System that is developed with a vision to improve efficiency by maximising Kinetic Energy Usage and offering flexibility for different users dependent upon their needs.
Warrego harnesses hydrogen power and has been designed to meet a growing demand among vehicle owners for efficient, cost effective and sustainable cars, trucks, buses and other forms of transport.
"The pre-orders have exceeded all of our expectations," said H2X Global CEO Brendan Norman.
"We knew they would be popular but we've been blown away by the demand for the Warrego. Orders have literally been coming in from around the world. The word has got out that we're on to something really special," he said.
Featuring a 200kW motor system, 66KW and optional 90KW fuel cell systems and 60-100KW output Energy Storage Systems between Battery and Super Capacitor units, the Warrego has from 500km driving range on a mix of highway and city roads within a quick refuelling time of 3-5 minutes.
Even though it's a world first, H2X already has in place a wide network of support partners in Australia and developing in key locations around the world capable of providing accelerated distribution, servicing, and after sales support.
With the unique H2X Hybrid Fuel Cell System, a vehicle can run on pure hydrogen, which drastically reduces refuelling time and increases driving range and hydrogen efficiency.
H2X's fuel cell technology is based on decades of experience in vehicle development and is targeted at high use vehicles for commercial and sharing purposes where the availability of the vehicle is key.
H2X is pushing into new markets, with a series of products due for release in the coming months that will show new ways of working with hydrogen and bringing clean energy to many different applications in cities.
With a diverse range of products off a common platform, H2X can quickly support financially sound business cases for hydrogen rather than battery electric for commercial vehicles. BEVs currently have long charging times, limited expected life, and issues with the disposal of lithium batteries.
H2X is a global leader in hydrogen vehicles including utes, motorbikes, trains, delivery vehicles and ships.
The company is preparing for a listing on a major global exchange in late 2021/early 2022 and is currently undertaking a capital raising as it works to position itself as a world premium hydrogen vehicle manufacturer.
Customers can reserve their new Warrego Ute now for no upfront cost at https://thehydrogentruck.com/.

ABOUT H2X GLOBAL
H2X is an automotive and power unit company focused on absolute sustainability. The company is focused on harnessing the most efficient and effective technologies, with the onus on capturing free and renewable energy sources. A specialisation in hydrogen is the basis of H2X's growth, however with a strong platform as a maker of electrically powered vehicles, the company has a versatile approach to finding the right vehicle for the right task. www.h2xglobal.com