CHOICE HOTELS CELEBRATES STRONG END TO THE YEAR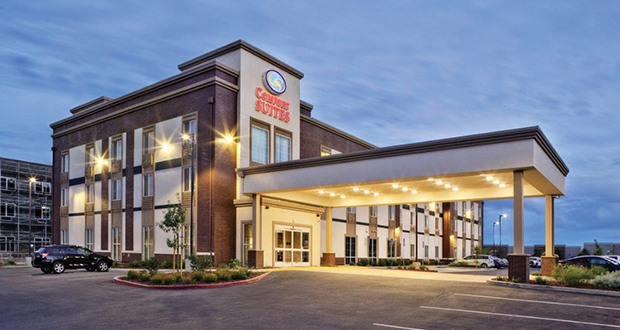 Leading hotel and International franchise group Choice Hotels Asia-Pac has celebrated a strong end  to the year for the network, finalising two separate three property agreements in metro Sydney and  the Adelaide Hills. Choice Hotels Asia-Pac is thrilled to announce three properties across the Sydney  
CBD and Paramatta as part of a new partnership with APX Hotels Apartments, and three properties located in Hahndorf in partnership with The Haus Group.  
These significant alliances highlight the growing confidence across the accommodation market after  a tumultuous year and represent a strong springboard for continued growth for Choice Hotels as it  moves into 2021. 
In Sydney, the three new properties – APX Darling Harbour, APX Paramatta and APX World Square – allow Choice Hotels to expand its growing footprint in key Sydney markets, and bolster its  apartment-style accommodation offering for the corporate and leisure markets.  
Located in Hahndorf – a popular leisure destination in the Adelaide Hills, south-east of Adelaide – The Studios By Haus, Ascend Hotel Collection, The Manna By Haus, Ascend Hotel Collection, and The  Lodge By Haus offer visitors exquisite, boutique-style accommodation a stone's throw from the  renowned Adelaide Hills wine region. 
Centrally located near popular attractions like the Sydney Harbour Bridge, China Town, the Sydney  Aquarium and the Powerhouse Museum, APX Darling Harbour features spacious studios and one bedroom serviced apartments with a contemporary and elegant guest experience.  
APX World Square provides relaxed and comfortable accommodation in the heart of the Sydney CBD  and is positioned perfectly for the business traveller. Hotel amenities include spacious studios, one and two-bedroom serviced apartments as well as an on-site gym. APX World Square also offers full  contactless check-in to all its guests. 
APX Parramatta, nestled in Rosehill, opposite the Rosehill Gardens Racecourse, offers spacious  studios, one, two- and three-bedroom serviced apartments along with an on-site swimming pool.  Conveniently located opposite Rosehill racecourse and close to Parramatta CBD, additional nearby  entertainment and retail facilities also include ANZ Stadium, Sydney Olympic Park and Westfield  Parramatta. 
Each of the hotels feature dedicated in-room meeting facilities suitable for a range of corporate  meeting requirements and have a professional business team on hand. 
APX Founder and CEO, Spencer Bailey, said: "APX Group has partnered with Choice Hotels in order  to connect with its strong network of corporate travellers as well as access Choice's powerful  distribution system and extensive marketing offering.  
"We're thrilled to partner with Choice and look forward to more exciting announcements to follow  including evolving our branding of these properties under the Choice Hotels banner," he added.
The Studios by Haus, Ascend Hotel Collection is the perfect accommodation option for guests to explore the village of Hahndorf which is rich with history and offers self-contained accommodation  options with either one or two bedrooms set in a picturesque garden setting.  
The Manna by Haus, Ascend Hotel Collection is a modern, Scandinavian-inspired hotel featuring  versatile room options including superior, executive and indulgent spa suites which are perfect for  families, romantic getaways or corporate accommodation.  
Near The Manna by Haus, and tucked off the back of Hahndorf's main street is the The Lodge - an  ideal base for exploring the Adelaide Hills which also offers the option to book out the entire  property for groups. The hotel features an undercover swimming pool and shady BBQ area.  
Jason Duffield, The Haus Group Managing Director said: "With regional travel and experiences  increasing in demand as the domestic market gets back on its feet and Australians explore their own  backyard again The Haus Group is excited to join the Ascend Hotel Collection and the broader Choice  Hotels brand, which has such an extensive and strong regional footprint across the region".  
Trent Fraser, CEO of Choice Hotels Asia-Pac, said: "We're delighted to partner with two well established organisations in the hotel industry, as The APX Group and The Haus Group – this is an  extremely positive result to round out what has been a challenging year for the accommodation industry.  
"These new partnerships are significant for our organisation, and demonstrate that the market is  rebounding in line with eased travel and state borders restrictions," he added.  
For booking details or for more information, visit ChoiceHotels.com.au.