How to choose the right Pressure Washer and save water and time on outside chores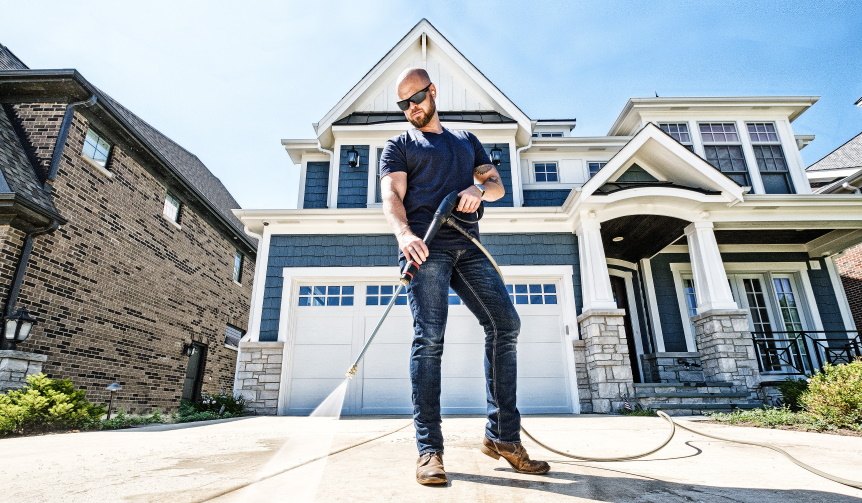 From cleaning pathways, outdoor furniture, brick walls and machinery, pressure washers can help tackle a number of outdoor jobs. However, with so many options available, it can be difficult to decide which pressure washer is the right fit for the job. According to DEWALT, the power tool experts, cleaning with the right pressure washer is 10 times faster, and 10 times more water efficient, than cleaning by hand. Different pressure washers have a variety of functions and accessories, suiting everyone from the weekend warrior to the serious DIY renovator.
"The first decision is whether you want an electric or petrol-powered motor," says Matthew Tojic, DEWALT Pressure Washers Category Manager at Mayo Hardware. "Will you have access to 240V power, or will you be using your pressure washer in a location where 240V power is unavailable? This could be the determining factor of whether you will need an electric or petrol-powered pressure washer."
In general, electric pressure washers are user friendly and cost effective. The main drawbacks are that electric models generally have lower pressure and flow, and you are restricted by the length of the power cord. Petrol machines will go anywhere and offer higher pressure, flow and durability.
Pressure washers are rated by a PSI (Pounds per Square Inch) unit of measure. This calculates how much pressure is created by the pressure washer and its flow rate applied to an area of one square inch. The higher the pressure and flow, the more effective it will be when cleaning.
Due to its versatility, pressure washers have become increasingly popular with homeowners. Some of the most common projects for cleaning around the outside of the home include washing mossy paths, removing mould off walls, and everyday dirt, dust and weather sediments from outdoor furniture. It can also be used on fences and house exterior for paint preparation, as well as washing the car, caravan or bike.
"Using a commercial pressure washer with a high PSI may cause damage to the material you are trying to clean. For every day house tasks, ensure to use a PSI range of 1,500 to 2,000. When working on projects, begin with the lowest PSI setting and gradually increase the pressure," says Tojic.
Cleaning weatherboards, concrete stains, large outdoor areas and walls requires a higher PSI range of 2,000 to 3,000, and for intensive cleaning such as graffiti removal a PSI range of 3,000 and above is required.
"Some brands of pressure washers have high PSI but a low flow rate. This will result in a powerful mist of water that is not that effective in cleaning. It is important to compare both PSI and flow rate when researching different models and brands of pressure washers," adds Tojic.
"More and more, we are seeing homeowners put the "green" into having a green thumb with an increased focus on saving water and helping the local environment. There is an increased interest in reducing water usage. Additionally, jobs such as cleaning your driveway or deck take an incredible amount of time by hand, up to half a day, whereas using a pressure washer will get the job done in about an hour."
Using the right accessories, such as interchangeable nozzles, is a great way to change the pressure of the water for different types of jobs. Turbo nozzles increase the surface area the water hits and help to clean faster. There are also pressure washers that come with deck cleaning and soap dispenser abilities with attachments that connect to the end of the pressure washer and increase the surface area that the pressure washer can clean. "They can be used to dramatically reduce the time it takes to clean a large area like a driveway or deck. Other machines have in-built canisters for chemicals which are handy if you do a lot of cleaning with chemicals," adds Tojic.
Pressure washers can be a high-value tool with a lot of different parts. When choosing a pressure washer, it is important that you choose a reputable brand with a good warranty, a large network of service agents and parts that are readily available.
Rather than labouring through the chores, a switch to a pressure washer is a great way for homeowners to do their bit for being water wise while reclaiming their weekend.
DEWALT has a wide range of pressure washers available for all types of jobs around the home, and are available at Bunnings, Total Tools, Mitre 10, Sydney Tools, Adelaide Tools and leading hardware retailers.
About Mayo Hardware
First established in 1928, Mayo Hardware Pty Limited is proudly recognised as a supplier of value to the retail, trade, government and commercial markets in Australia, New Zealand and selected export markets.
Mayo Hardware hold a market leading position in outdoor lifestyle, safety, security and hardware categories. We work with our customers and end-users to create value that can be captured and shared. This is achieved through superior product offering, customer support and working closely with partners to fully understand their requirements to create the best programs to meet their needs.